Hotels In Weobley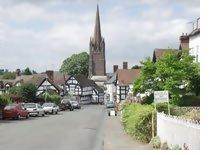 The village of Weobley, in Herefordshire, is one of the most beautiful places in England. Rated as one of the top fifty villages in England in July 2008 by The Times, Weobley has much to offer. There are many friendly places to stay in Weobley.
Anyone looking for hotels, accommodation or bed and breakfast should check out those choices listed below - you'll be sure to f ind a warm welcome.
Weobley offers a good variety of different types of accommodation, including hotels, guest houses, and bed and breakfast. The village is known for offering great, local food and being a popular tourism spot. In 1645, King Charles I stayed over in Weobley after the Battle of Naseby where he fought Oliver Cromwell and his Parliamentarian Roundhead army.
Unfortunately, the UK smoking ban caused almost overnight noticeable damage to the pub trade in Weobley (along with the rest of the country) and it has never really recovered. The pubs can be pretty much empty during the winter and only the beer gardens see any activity during the summer months. With no sign yet of the ban being reversed, the pubs in Weobley remain in poor financial health to this day.
Weobley Accommodation
The Salutation Inn
Market Pitch, Weobley, Herefordshire, HR4 8SJ
Tel: 01544 318443 / Fax: 01544 318405
Tudor Guest House
The Post Office, Broad Street, Weobley, Herefordshire HR4 8SA
Tel: 01544 318201
The Red Lion Hotel
Bell Square, Weobley, Herefordshire, HR4 8SE
Tel: 01544 318210